Summer is a great time for Montessori parents and teachers alike to prepare for their ongoing work of educating the human potential, but it is also important to engage in activities that rejuvenate the adult's wonder and inspiration. In this spirit of balance and Montessori's emphasis on adult preparation I am excited to be part of the Wings, Worms, and Wonder Bundle Up for Summer Blog Hop!!  Read on for details about a freebie and a giveaway.
You may recognize the name Wings, Worms, and Wonder from the post Big Nature Connections, Small Spaces Kelly created last December. She is a Montessori teacher dedicated to creatively connecting children, and the adults who guide them, to nature, so what more relaxing way to build your creative connections this summer than with Kelly's new Self-paced eCourse Bundle!
The Connecting with Color and Draw Yourself Back to Nature eCourses, build on each other and are developed to guide the adult through their own art based nature connecting, for health, happiness, and relaxation, while also providing them with a wealth of resources to then modify what they are learning for the developmental needs of the child!
Best of all – no previous art experience necessary!! Kelly taught art in her Montessori School for 10 years, and with an emphasis on process over product, so she is well versed at guiding beginning and experienced, child and adult, artists through art techniques and creative nature experiences.
The course's modules provide a combination of video art tutorials, history, theory, guided nature connection technique audios, resources, and extensions that guide you through the process of using art and nature journaling to inspire sense of wonder and nature connections with the everyday nature just out the back door. There is also an active online community where you can share your creative nature explorations and ask questions!
Both courses are self-paced, focus on slowing down, and you have access to them for the life of the courses, so relax into creative nature connecting and progress through them completely at your lazy summer leisure!
Because many nature journalers may not have a background in formal art, Kelly bundled the Connecting with Color and Draw Yourself Back to Nature eCourses at a special price so you get the foundation of color theory and paint mixing in Connecting with Color on which to sprout your Draw Yourself Back to Nature journaling and connection experiences.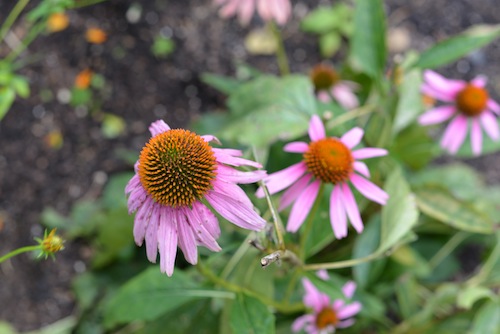 Montessori believed "beauty could be found in nature and that nature itself should be and is the most infinite source of creative inspiration." ~Turner, Art and Montessori
To get your colorful connections sprouting, and as a special Bundle Up for Summer Blog Hop treat, Kelly provided us a Rainbow Nature Sketch Hunt printable that you can use both yourself and with the children in your life!  Click the image to download the PDF.
All you need is a clipboard, colored pencils, to print it off, and head out the back door to seek the colors of nature's rainbow in your nearby environment! Find that wonder, beauty, relaxation, and inspiration that Montessori knew was so good for us and Mother Nature provides endlessly if we slow down to notice!!
Be sure to Follow the hop all week and comment because Wings, Worms, and Wonder is giving away 2 FREE course registrations!!!
&
1 Draw Yourself Back to Nature & Connecting with Color bundle will be drawn from the people who comment everyday on every post of the Bundle Up for Summer Blog Hop!!! So be sure to follow all week!!
Winners will be announced on the Wings, Worms, and Wonder blog Tuesday 6/30!!!!
Registration for the Connecting with Color and Draw Yourself Back to Nature eCourses and Bundle opens this Friday, June 26, so get registered and make this summer all about creative nature connections that you can use with the children at home and in the classroom!!
Learn more about the Connecting with Color eCourse here.
Learn more about Draw Yourself Back to Nature here.
Learn more about the course bundle here.
Then be sure to check out Rob from The Garden at Oswegatchie School's Blog Hop post tomorrow and comment to be in the drawings to win!!
Join the Fun and stay updated on all the Wings, Worms, and Wonder creative nature connection resources and free monthly Wonder Wednesday Montessori inspired lessons! Subscribe today!