I am so excited to share a very special opportunity with you today! If you are a parent trying to do Montessori homeschooling, or a teacher trying to support families who are attempting to homeschool, the 2021 Montessori Homeschool Summit is exactly what you need!
This is a unique gathering of many experienced Montessori homeschoolers and trained guides speaking specifically to the needs of homeschooling families.
Tickets are on sale NOW! The Summit will begin on September 27 and you will receive 5-6 new videos every day through October 1. Even better, you have 1 year of access to all of the videos so there is no rush to get through everything right away.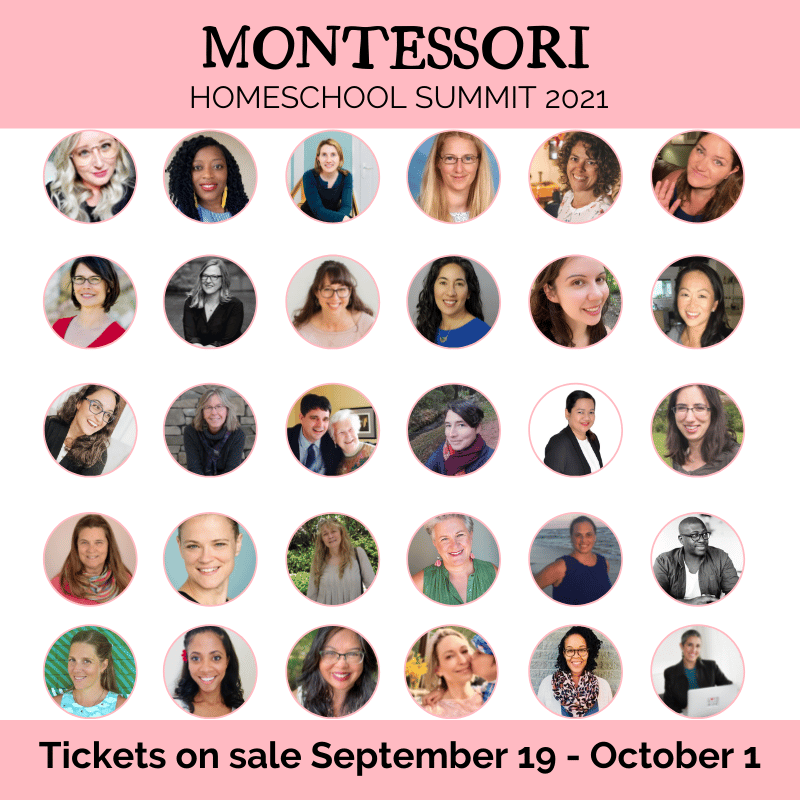 Montessori Homeschool Summit
20+ Sessions
1 year of access
Only $68
Need customer support? Please contact montessorihomeschoolsummit@gmail.com
This Summit has been organized by my friends Katherine (of I Believe in Montessori) and Yuliya (of Welcome to Mommyhood). It is my pleasure to be an affiliate for this awesome conference. If you need help with your order or anything else related to the Summit, please contact Katherine and Yuliya at montessorihomeschoolsummit@gmail.com.
Here are some of the amazing speakers and sessions you can look forward to:
Aubrey Hargis "Monte-Silly: Effective Teaching is Playful!"
Aubrey has one of the best Montessori Homeschooling support programs out there: Homeschool of the Redwoods. She is also the host of the amazing Montessori parenting podcast, Child of the Redwoods, and is the author of two parenting books. Aubrey will be talking about the value of play-based education.
Junnifa Uzodike and Simone Davies "Education from Birth"
Junnifa is the co-author of The Montessori Baby. She is also the Founder and Head of School at Fruitful Orchard Montessori in Abuja, Nigeria. She inspires parents around the world to bring Montessori into their lives by sharing her Montessori journey and offering courses and other resources online.
Simone Davies is the author of The Montessori Toddler and co-author of The Montessori Baby. She has a popular blog, Instagram, and podcast called The Montessori Notebook. Simone and Junnifa will be discussing 10 ways that babies are learning from the moment they are born, and how we can support them at birth and beyond.
Lynda Apostol "Cultural Competence & Your Montessori Child"
Lynda, also known as The Montessori Teacher, is a Montessori Coach who helps dedicated parents & educators get organized and learn how to follow the child and implement Montessori holistically. In this session, she discusses tools for effective cross-cultural communication, lessons, and lifestyle approaches in raising culturally competent children.
You will also learn…
how to create an environment for mixed ages

what to do when your child misbehaves

how to use cosmic education as the center of your elementary curriculum

understanding the needs of your elementary child

adding music to your homeschool

how to run a Montessori-style homeschool Project Group


…and a lot more!
If you've been a Trillium reader for a while, you will be familiar with many of these fantastic Montessorians who will also be presenting:
Letty Rising
Jana Morgan Herman
Carolyn Lucento
Jackie Grundberg
Claudia Mann
and many more!
I think you will get more than your money's worth if you watch only a couple of workshops in this Summit! Check out the full list of sessions and sign up here: CLICK HERE