---
Hello Everyone!
We have a great new free webinar this week! Kristen Richter and Spramani Elaun will be talking about the state of flow, how it relates to the Montessori concept of normalization, and how to actively promote it in your students/children. They also have a 4 week online course coming up that you will definitely want to check out! More information below.
I want to remind you that today is the last day to get the free chemistry printables from Zoe at Science Matters. If you haven't had a chance to sign up for those yet, you can find them HERE.
If you're a primary (ages 3-6) teacher, you may be interested in a free webinar coming next week about how to organize and rotate your materials.
I hope you have a wonderful week!
-Seemi
---

Free Webinar
FLOW AND NORMALIZATION
Kristen Richter and Spramani Elaun
multiple days and times to choose from (Feb 9-17)
Webinar agenda:
Introduction
Definition of Flow
8 Major Components of Flow
What We Know and Don't Know About the Neurobiology of Flow
Normalization
Key Components to Creative Flow States
Parallel Montessori Concepts
Roadblocks to Creativity
Suitable for educators/parents of 3-12 yr olds
Webinar length: 60 minutes

About the speakers
Many of you may have attended Spramani and Kristen's webinar last year on Using Art to Combat Stress, and seen Kristen's presentation in the P2P Summit on conflict resolution. The two joined forces in 2020 to present at the AMS conference in Dallas,TX. They were one of a select few presentations at the Montessori Event before it was shut down due to the coronavirus pandemic. This led them to take their program online. Together they are facilitating an entire movement to bring emotional literacy into classrooms all over the world by educating and empowering teachers and parents to bring emotional literacy to the children. Their course, Using Art Journals for Emotional Literacy will be starting on February 19th.
Spramani Elaun is an International Montessori art trainer and the founder of Nature of Art® art school and art supply company based out of San Diego, California. Spramani has over 30 years experience combined in commercial arts and art instructing. Spramani's authored seven art education books, guides for teaching visual arts to children.
Kristen Richter holds her 6-12 Montessori credentials and has over 25 years of experience in the Montessori environment. She has spent numerous years as a teacher educator and program administrator. She is also a certified Positive Discipline Educator and Teacher Facilitator and enjoys facilitating classes for parents and educators.
Watch their free webinar on flow and normalization here: https://trilliummontessori.easywebinar.live/flow-webinar (feel free to share this link with anyone who may be interested)
---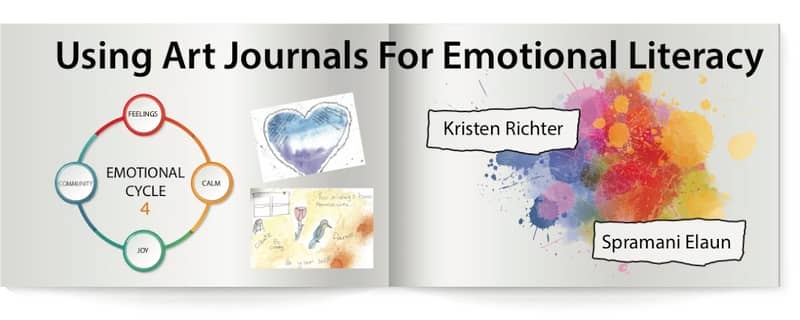 Online Course
Regular Price: $197
Your price: $97
4 hour PD certificate available
Course begins February 19!
I am an affiliate of this course but it is not hosted on Trillium. If you have questions, please contact Spramani.Elaun@gmail.com
Often times we think we need to change our children, but if we want a more peaceful and meaningful relationship with them, we need to change our way of thinking and our approach to child behavior. The 4-Part Masterclass: Using Art Journals For Emotional Literacy will help you gain a new perspective on how to support your students as you learn how to develop emotional literacy through art journaling and creating art.
Watch videos
Work through all 4 emotional literacy cycle phases
Get the materials list & lesson plans
Get professional coaching for 4 Weeks!
Part 1: February 19th – Tackling Emotions
You'll learn how to help children identify their feelings and emotions, and process them in a safe and healthy manner.
Art Technique: paint-splatter project for emotions

Part 2: February 26th – Getting to Calm
You'll learn the strategies children can use to help calm themselves down as well as proactive ways for them to self-regulate.
Art Technique: masking and color-mixing project for calm

Part 3: March 5th – Embracing Joy
How can we bring more joy into our lives? While this comes naturally to some people, others need to practice or work towards finding it.
Art Technique: paper-collaging project for joy and emotional "spilling"

Part 4: March 12th – Building Community
Each one of us is a part of a bigger community. Whether this community is a large school, or an intimate family, we ALL want two things: to feel love and significance. We'll wrap up our series with discussions on how to ensure all children feel a sense of belonging.
Art Technique: community mural project for emotional literacy
Learn more and sign up here: http://trilliummontessori.org/flow (Feel free to share this link with anyone who may be interested in this course) If you have questions about this course, please contact Spramani.Elaun@gmail.com
---
How to Contact Me
If you have a customer support question about a Trillium resource, please email me at support@trilliummontessori.org. If you have a general question about Montessori or anything else, you are most welcome to ask in one of my Facebook groups. Please do not send me a private message on social media. I do not monitor Facebook messenger or direct messages on Instagram and your message may get lost in the void!
---