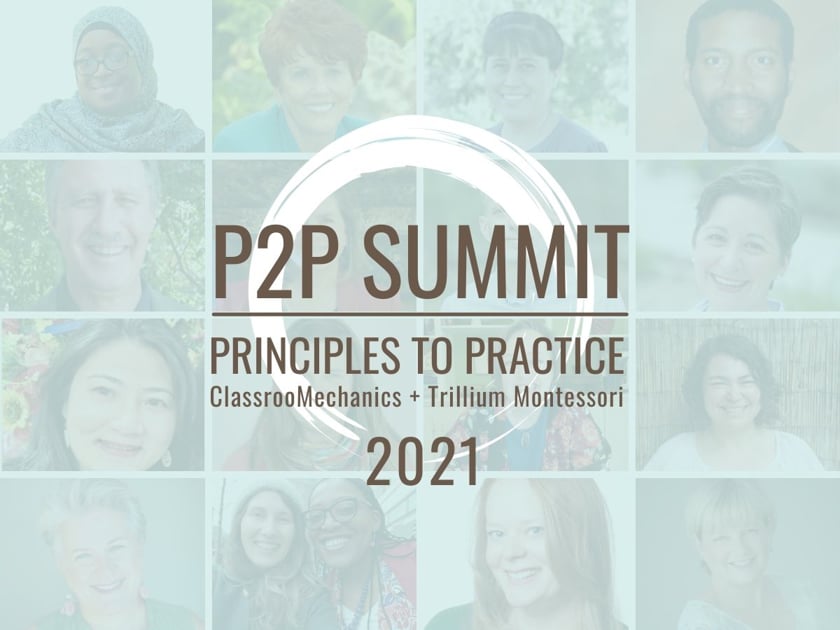 Hello! We are Seemi and Tammy and we are delighted to invite you to the 2021 P2P Summit! 
The P2P Summit is part of the "Principles to Practice" joint project between Classroomechanics and Trillium Montessori where we aim to bring quality, affordable, and effective professional development to Montessorians around the world. We do this via our monthly P2P subscription for 3-6 and 6-12 and the annual P2P Summit online conference.
Our Summit speakers this year are nationally recognized experts and pioneers including leaders from organizations such as AMS, AMI-USA, IMC, and Montessori Europe.  Our goal is to not only inspire you but to equip you with practical tools that can make a real difference in your classroom. 
Please join us!
Learn from 20+ globally recognized experts

Join thousands of educators from around the world

Watch at your convenience
How Does this Conference Work?
Register for the conference

Check your confirmation email

Videos will be released June 27-July 1

Log in and watch at your convenience

Request certificates of completion
What Makes this Conference Different?
Get access to all the sessions

Remember how hard it is to choose which session to attend at a conference? We believe in having it all! You get access to everything.

Access for a whole year

Feel like watching your favorite sessions multiple times?  No problem!  Simply log in and watch as often as you like.  You have a whole year to watch and rewatch the videos.

Watch only what you need

You don't have to watch all the sessions to be eligible for the PD certificates. Request a separate certificate for each session you view.  There is no extra charge!
POSITIVE DISCIPLINE IN MONTESSORI
Positive Discipline is a powerful and effective approach for parents and educators to adopt as it assists children in finding how capable they are and in receiving the message that they belong and are significant.  This lively conversation with renowned Positive Discipline author Dr. Jane Nelsen and her co-author Chip DeLorenzo bring Positive Discipline into the world of Montessori as they launch their new book and course, Positive Discipline in Montessori Classrooms.  
CHIP DELORENZO
Chip DeLorenzo has been a Montessori educator since 1995, and is finishing up his tenure as Head of School at the Damariscotta Montessori School in Nobleboro, Maine. He is a Certified Positive Discipline Trainer and has been using Positive Discipline in his classrooms since he was a new teacher. As a trainer and presenter, Chip has worked with thousands of Montessori teachers and parents in teaching the principles and practices of Positive Discipline through various workshops and lectures. He holds Early Childhood, Lower and Upper Elementary AMS certifications, and has worked extensively with Montessori Adolescent students. Chip is the father of four Montessori children.
DR. JANE NELSEN
Jane Nelsen is the author of the Positive Discipline Series and co-founder of a worldwide training program, through the Positive Discipline Association, that has certified thousands of Positive Discipline Facilitators in over 70 countries. The original book, written in 1981, was the product of Jane's deep gratitude for the changes she was able to make as a parent of 7 children after learning the philosophy of Alfred Adler and Rudolf Dreikurs in her college class in Child Development and Family Relations. Since that time, Jane has authored or co-authored many books, tool cards, and training manuals. Enthusiasm continues to grow from interest on the part of parents, teachers, couples and business leaders who have experienced stronger relationships as a result of training in Positive Discipline. Jane continues to inspire people around the world with her down to earth examples of how to create and maintain respectful relationships in life. She is now the grandmother of 22 and the great grandmother of 15 and counting.
THE FUTURE OF MONTESSORI
Exploring the future of Montessori, this panel discussion is both a compelling call to action and a rare peek into the insights through the lens of three global leaders in Montessori education today.  
AMIRA MOGAJI
Amira Mogaji is the President of the American Montessori Society (AMS) Board of Directors and a founding board member for Montessori for Social Justice. Amira serves in leadership roles in various AMS committees including the Peace and Social Justice Committee, the AMS Board of Directors Diversity and Inclusion Workgroup, the Executive Committee, the Emerging Leaders Fellowship Committee as well as the new Justice, Equity, Diversity and Inclusion (JEDI) Committee. Amira served as CEO/Head of School of Montessori Charter School, the principal of an AMS accredited school within an urban school district as well as the chief academic officer of an ABAR-focused Montessori Charter school. Amira is also a Montessori parent and an ABAR educational consultant. 
TRISHA MOQUINO
Trisha Moquino is a wife, mama, daughter, auntie, and tribal member. She is the Co-Founder/Education Director/Keres Speaking Elementary Guide at Keres Children's Learning Center (KCLC) which serves Cochiti Pueblo. She is from the Tribal/Pueblo communities of Cochiti, Kewa, and Ohkay Ohwingeh in New Mexico. Trisha completed her Montessori Elementary I certification at the Montessori Education Center of the Rockies and her Primary training with United Montessori Association. Her master's thesis laid out the vision for what would eventually become the KCLC. Her daughters were her inspiration for wanting to start KCLC.
DR. AYIZE SABATER
Ayize Sabater is a dynamic entrepreneur, educational researcher, author and thirty year educator. He recently co-founded the Black Montessori Education Fund and was appointed Executive Director of AMI USA in November 2020.  Dr. Ayize has co-founded several organizations, including a Montessori Public Charter school in D.C. His research interests include: family engagement; culturally relevant pedagogy; Montessori education, especially for Black people. 
General
Andy Lulka & Regina Lulka
The Great Story of Observation
Infant-Toddler (0-3)
Nichole Holtvluwer
Early Childhood (3-6)
Virginia Lozuke
Conflict Resolution- Restoring Harmony and Equipping Others to Do the Same
Elementary (6-12)
Carol Palmer
Why (and how) Children Should Be Making Their Own Tools
General
Julia Volkman
The Neuroscience of Montessori
Infant-Toddler (0-3)
Simone Davies & Junnifa Uzodike
The First Year of Life - 
the Foundation for Every Plane of Development
Early Childhood (3-6)
Angie Ma
Growth Mindset: Creating a Growth Culture in the Primary Classroom
Elementary (6-12)
Betsy Lockhart
Concrete Foundations in Algebra
General
Kathy Leitch & Jonathan Wolff
Helping Children Balance Deep Engagement with Community Awareness
Infant-Toddler (0-3)
Mercedes Castle
Early Childhood (3-6)
Claire Paglia
Behavior as Communication
Elementary (6-12)
Kim Anh Nguyễn Anderson
Writing with Voice and Choice to Impact Relationships and Leadership in the 6-12 Classroom
General
Barbara Isaacs & Wendelien Bellinger
Infant-Toddler (0-3)
Michele Camargo
Montessori and Yuesao Postpartum Nursing
Early Childhood (3-6)
Hannah Baynham
Rethinking Practical Life
Elementary (6-12)
Debbie Diesing & Claudia Mann
Keeping Cosmic Education Wonder-filled with Art, Science and Creative Expressions
General
Maureen Harris & Leah Harris
Montessori Mozarts - Fun with Rhythm and Beat!
(0-6)
Jeanne-Marie Paynel
Guiding Parents: What Teachers Need to Know
Early Childhood (3-6)
Mary Stratton
Preparation of the Practitioner
Elementary (6-12)
Kelly Johnson
The Cosmic Task of Creativity: Cultivating Ecological Intelligence through the Curriculum
All
General
Infant-Toddler (0-3)
Early Childhood (3-6)
Elementary (6-12)
Individual Registration
Depending on your location, tax may be added to your total
.
USD $99 + tax
DO NOT USE IF YOU ARE PLACING A TAX EXEMPT ORDER
Tax Exempt
.
. + 

use this if you are a tax-exempt organization in the USA
Buying with a PO? Please contact info@classroomechanics.com