This is our pre-literacy shelf in January. It includes most of the following activities.
I Have, Who Has.. Winter Words. This is a fun vocabulary development activity you can do with one child or a group of kids. In our class, the children love to do it with a few buddies. I found these here.
Roll the Dice and Build a Snowman from 2 Teaching Mommies
Parts of a Snowman, also from 2 Teaching Mommies. The non-readers can so this by matching the initial letter. The size of the label acts as a control of error.
What's Missing on the Snowman from A Child's Place
Which Snowflake is Different? From 2 Teaching Mommies
Snowman Sequencing from Teach It With Class
Snowman Nonsense Words Game from K is for Kinderrific. This is on our phonetic reading shelf.
And a Little Bit of Math…
Snowflake counting. I got the snowmen cards from First Grade Garden
Counting Buttons on the Snowmen from Miss-Kindergarten.com
Roll the dice and cover the snowflake from Learning and Teaching With Preschoolers
Linked to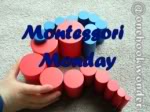 ---
Related Products
In the Trillium Montessori Shop
---